The Sienna Academy is an Anthroposophic initiative. It promotes artistic and therapeutic painting courses that bring healing through working with the spiritual archetypes of light, darkness and colour. Artistic mediums include water colour moist-on-moist and veil painting; charcoal, pastel and lead pencil drawing. Courses weave together 3 main strands of teaching: Developing the student's artistic abilities; developing the skills to work therapeutically as a painting therapist and making more conscious the inter-connectedness of inner and outer colour world as a path of self development.

The Classes are designed to give students a living relationship to colour. Different exercises build up the student's sensitivity towards colour perception and help develop the necessary skills to translate this into an ability to paint in this method.

Together with the colour work and practical exercises, the spiritual scientific approach develops an understanding of the human being in both a microcosmic and macrocosmic sense. Seeing a person's destiny unfold as part of an integrated whole gives unique insights as to the underlying causes of an illness or re-occurring pattern. Medical lectures support this understanding.

Each course has a different focus depending on whether it is designed to teach the method as an art form or for developing the necessary skills to become an art therapist. In every class, colour and its great archetypal spiritual background bring healing and new life forces to those that participate.

It is a schooling path that draws inspiration from the three great visionaries and pioneers:

1) Liane Collot d'Herbois, a prolific and talented artist who could perceive the living essence of colours, free from matter, arising and dying away between the dynamic interplay of light and darkness. She breathed and emanated a colour world of glowing imaginations in her veil paintings, art teachings and therapeutic work. [more]

2) Rudolf Steiner, a highly developed seer, who spoke out of his direct perception of the spiritual world and who initiated a modern and universal 'science of the spirit,' which he presented to the world in numerous books and lectures. 'Anthroposophy' is the word that Rudolf Steiner used to describe the spiritual insights that he shared with people during his lifetime. It means 'wisdom relating to mankind'. [more]

3) Johann Wolfgang von Goethe, a scientist and renowned author who developed a theory of colour that was based on years of personal observation. [more]

Sally Martin is the principal teacher of the Sienna Academy. Sally first came into contact with Liane Collot d'Herbois in 1994. For many years prior to this she had already been practising a painting method based on the colour research of Goethe and Rudolf Steiner. She had been seeking to understand how painting could become a healing form of art in the world; meeting Liane's approach was an answer to this question. Sally is a teacher with a great passion for colour in connection with spiritual striving. Over the last 30 years she has worked therapeutically with all age groups in diverse contexts and countries. She has trained many students in this method of artistic and therapeutic painting in Australia, Europe, China, Thailand and Vietnam. [more]

Other main contributing teachers are Dr Lakshmi Prasanna for the medical work and Jan Baker Finch for eurythmy. [more]

Completion of the training will enable students to work as Therapeutic Artists in combination with their existing profession. Individual modules may be taken as a path of self development and an artistic schooling.

The Sienna Academy is located on the Sunshine Coast in Australia.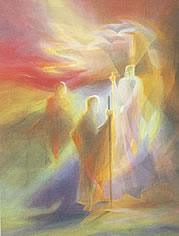 Please contact Sally Martin
for more information:

27 Deodar Court,
Mapleton, QLD 4560
Australia

Phone: (07) 5478 6260
Phone: + 61 (0) 7 5478 6260

Email: Click here
Web: www.siennaacademy.com.au

Map: Click here